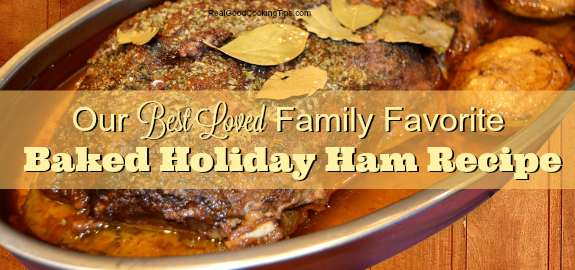 Best Loved Family Favorite Baked Holiday Ham Recipe for Easter
It doesn't matter what time of year it is, Easter, Christmas or New Year's Day, it's always a good time to pull out your best loved family favorite baked holiday ham recipe.
In our family, my aunt and her daughter (my cuz) host the family Easter gathering.
We dye eggs the night before and serve them before Easter Brunch.
As part of our Polish heritage traditions, we have a little ceremony whereby we have a contest of cracking each others eggs until one winner claims victory!
Then we proceed to devour our favorite brown sugar and mustard glazed holiday ham!
This particular Holiday Ham recipe doesn't sound especially Polish, but who's to say it's not how they baked a holiday ham in the old days…it seems that glazed ham recipes go back a long way…especially combined with some hearty Polish mustard!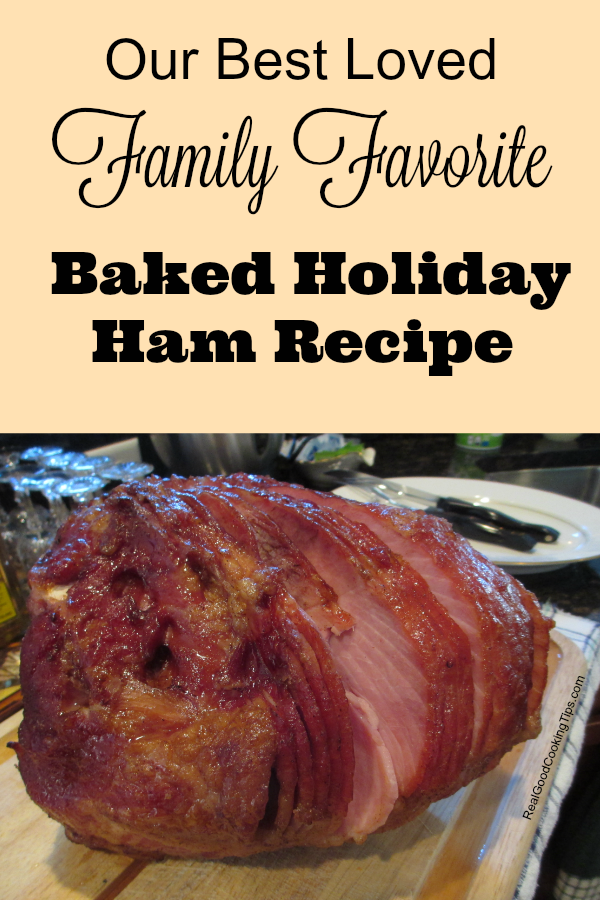 The traditional baked brown sugar glazed ham is not the only important part of the meal in our family.
We also serve traditional Polish kielbasa (both steamed and sauteed) and my Aunt's glorious Kapusta (cabbage & mushrooms) recipe.
I'll write a separate blog post explaining the kielbasa and kapusta another time.
We also serve up some kind of potato, usually mashed. and sometimes someone brings along scalloped potatoes…yum!
We like asparagus for the educated palettes, and green beans for those who prefer a more simple green. (like the children)
These are my cousin's words of wisdom for the best way to cook a ham…
Best Way To Cook A Ham
Which ham shall I purchase?
Ham shank or ham butt?
Hint: The ham butt takes longer to cook.
If you can actually see the ham at time of purchase, the ideal is to look for 'not a lot of fat' other than what is on the outside of the ham.
If you can't see it…I don't know what to tell you…
Oh, yes I do…
Buy A Spiral Ham!
Want to make for a nice holiday ham?
Buy a Spiral Ham – It is already pre-cooked and cut!
A Spiral Ham comes with directions and its own glaze!! No mixing up hot sticky stuff!
So much easier to cook for your Easter Dinner, especially for a beginner.
And, it allows you to spend more time with the family.
The cooking part is easy. Basically, you're just warmin' it up while cooking at a
lower temperature so it won't overcook and come out dry.
Where Can I Buy A Spiral Ham?
That's easy. You can probably buy a spiral ham in your local grocery store, butcher store or specialty gourmet shop…or you can buy a Spiral Ham online! Here's a few highly recommended Spiral Ham products listed below!
Spiral Sliced Ham (7.25-8.5lb.) Kansas City Steaks
Spiral Sliced Ham Boneless (3-4 lbs.)
Boneless Spiral Sliced Ham (4-4 1/2-lbs.) – The Swiss Colony
&
Best Brown Sugar Glazed Ham Recipe
(When taking a Spiral Ham out of the packaging, rinse off very well.)
Score the ham in a diagonal pattern with a sharp Chef's knife. Repeat the scoring diagonally, in the opposite direction now, which creates a crossing pattern. Then, insert whole cloves at each crossing.
Place the holiday ham in a large roasting pan, flat side down.
Tent the ham with aluminum foil to cover it and seal all the edges
Place in the oven at 350 degrees.
Bake for 20 -30 min per pound, if roasting a ham that is not pre-cooked.
If using a precooked ham, follow the directions on the label for cooking times.
At 2 hour mark – remove the tent.
Use a baster and remove the liquid from the bottom of the pan.
Reserve to use for brown sugar glaze.
Glaze the ham with the easy Brown Sugar Glaze. (recipe below).
If desired, add pineapple rings and maraschino cherries to make it a Pineapple Glazed Ham Recipe.
Then, place ham back into the oven for the last half hour of cooking time.
Glaze the ham every 10 minutes during the last 30 minutes of roasting time. Serve remaining glaze with ham.
Real Good Cooking Tip:
Baste the ham with some pan drippings while glazing.
Where To Buy A Roasting Pan
Just take a look at the nice selection of roasting pans below to buy a roasting pan today!
Calphalon Classic Hard Anodized 16-Inch Roaster with Nonstick Rack
Cuisinart Classic Stainless 16-Inch Rectangular Roaster with Rack
All-Clad Hard Anodized 16-Inch Roasting Pan with Nonstick Rack / Cookware, Black
&
Easy Brown Sugar Glaze For Ham
3/4 C brown sugar
1/4 C of ham liquid
1/4 – 1/3 C yellow or brown mustard
1/2 C of orange juice
Directions:
Start with 1/4 C of ham liquid
Stir into brown sugar.
Add mustard and orange juice
Mix it all together.
Using a basting brush, baste the entire ham top to bottom.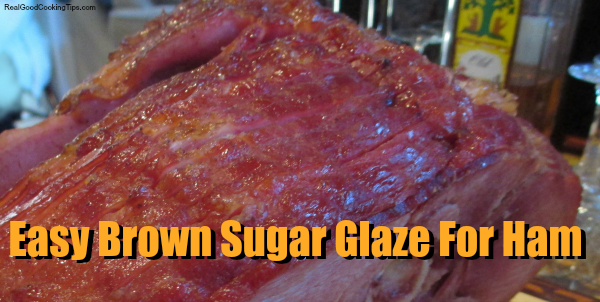 Pineapple Glazed Ham Recipe
Follow the recipe above.
At the 2 hour mark, glaze the ham, add pineapple rings and maraschino cherries and secure with toothpicks. Put back into the oven for the last half hour of cooking.
What To Do with Holiday Ham Leftovers?
Make a classic Holiday Ham Sandwich, of course.
Classic Ham Sandwich Recipe
Take a few slices of bread. Spread a little mayo and mustard on the slices.
Add thin slices of roasted holiday ham and a few pieces of lettuce.
That's it!
Perfect!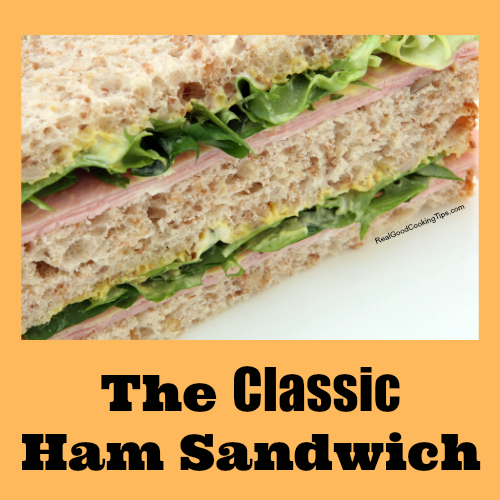 What are your favorite side dishes to serve with your favorite holiday ham recipe?
You might also enjoy theses articles:
Our Best Loved Family Favorite Baked Holiday Ham Recipe
Related posts: