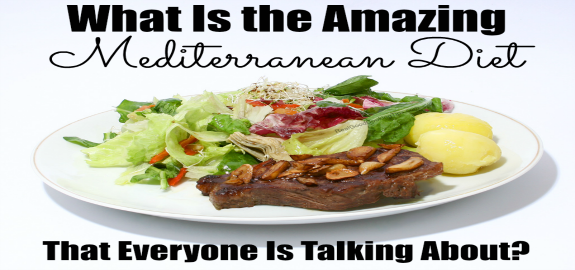 What Is The Amazing Mediterranean Diet That Everyone Is Talking About?
Just what is the amazing Mediterranean Diet that everyone seems to be talking about?
I saw a news story about The Mediterranean Diet Meal Plan this morning!
SO, WHAT IS THE MEDITERRANEAN DIET?
The Mediterranean Diet is a heart-healthy eating plan based on typical foods and recipes developed from Mediterranean-style cooking. Here you will find ways you can adopt the Mediterranean diet into your lifestyle. Your entire family can follow The Mediterranean Diet for a healthier lifestyle!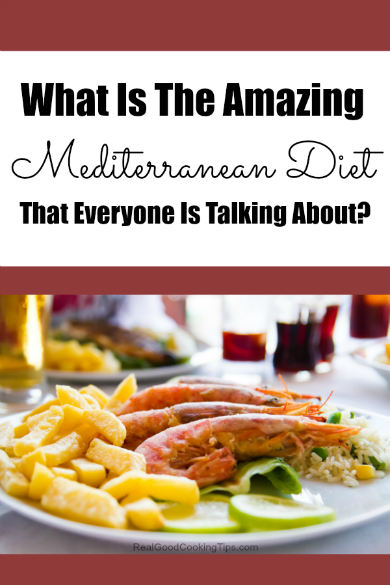 THE MEDITERRANEAN DIET REDUCES HEART DISEASE
Research shows that the traditional Mediterranean Diet reduces the risk of heart disease! You will learn not to eliminate fats altogether, but how to choose healthy fats. In the process you might also reduce the risk of cancer, Alzheimer's Disease, and other types of Dementia.
Saturated fats and hydrogenated oils are discouraged in The Mediterranean Diet. This diet encourages olive oil as the primary source of fat. Olive oil is a type of fat that can help reduce low-density lipoprotein (LDL) cholesterol levels when used in place of saturated or trans fats.
"Extra-virgin" and "virgin" olive oils (the least processed forms) also contain the highest levels of protective plant compounds that provide antioxidant effects.
A LITTLE RED WINE  WILL NEVER HURT YOUR MEDITERRANEAN LIFESTYLE!
The Mediterranean Diet even includes a nice glass of red wine daily (no more than 5 ounces), since wine has been associated with a reduced risk of heart disease in many studies. However, if you have a family history of alcohol abuse, or you have liver or heart disease, you should refrain from drinking any alcohol.
THE MEDITERRANEAN DIET HEALTH BENEFITS
By reducing the risk of heart disease and other disease, you can potentially live a longer and healthier life, while feeling great, too! Enjoy activities with friends and family! Enjoy great tasting foods, a glass of red wine, and feel great in the process, when you incorporate the Mediterranean Diet into your lifestyle.
Remember, this is a lifestyle change, and not really a "diet". Along with a healthier heart, and a reduced risk of Dementia, other benefits of a Mediterranean Diet include:
● Protecting against type 2 diabetes
● Keeping you agile
● Halving the risk of Parkinson's disease
● Increased longevity
THE MEDITERRANEAN DIET FOR WEIGHT LOSS
Even though many people choose The Mediterranean Diet as their lifestyle, some follow the guidelines of the diet in order to lose weight. It is simple really, when you eat normal portions of healthy foods, and you are active, you typically will lose weight. Just eating healthier will cause some weight loss. Cut back on carbs and sugars, eat healthy fats, and lose weight.
MEDITERRANEAN DIET WEIGHT LOSS TIPS:
Eat lost of fruits and vegetables, and switch to whole grains (breads, cereals, pastas, etc). Plant foods should make up the majority of your meals. Fresh and whole foods are best, and processed foods should be very minimal, or better yet, eliminated all together.
Consider fresh fruit or a fruit salad for a snack. This will give you a boost of energy and satisfy any sugar cravings you may have.
Nuts are a great source of fiber, protein, and healthy fats. Keep them on hand for snacking at work, school, or for after school treats for the kids. Natural peanut butter is best.
Use olive oil or canola oil instead of butter and margarine. You can drizzle it over vegetables and other foods such as meats and pastas, too.
Spice things up with herbs and spices in place of salt and fat.
Eat fish at least twice a week. Fresh or water-packed tuna, salmon, trout, mackerel and herring are healthy choices. Grill, bake or broil fish for great taste and easy cleanup. Avoid breaded and fried fish.
Limit your red meat consumption to no more than a few times a month. Substitute fish and poultry for red meat. Make sure the red meats you choose are lean, and keep portions small. Avoid bacon, sausage, and other high-fat, processed meats.
Keep dairy choices low fat, and when possible try almond or cashew milk in place of dairy milk. Choose low fat cheeses and ice cream, too.
Set realistic and obtainable goals for yourself, and remember, a slow and steady weight loss is better for you, and will help you to keep the weight off.
BEST MEDITERRANEAN DIET COOKBOOKS FOR BEGINNERS
For great recipes using The Mediterranean Diet, consider the cookbooks below. These make great gifts for family and friends, as well! Follow delicious recipes for healthy living!
Mediterranean Diet Cookbook For Dummies

The Mediterranean Diet

Mediterranean Diet for Beginners: The Complete Guide

The Complete Mediterranean Diet: Everything You Need to Know

Enjoy This Mediterranean Diet Recipe!
THE MEDITERRANEAN VEGETABLE OMELET

An Easy Mediterranean Diet Breakfast Recipe

Prep time: 15 minutes
Cook time: 25 minutes
Yield: 4 servings
INGREDIENTS:
1 tablespoon olive oil
2 cups thinly sliced fresh fennel bulb
1 Roma tomato, diced
1/4 cup artichoke hearts, marinated in water, rinsed, drained, and chopped
6 eggs
1/4 teaspoon salt
1/2 teaspoon pepper
1/2 cup goat cheese, crumbled
2 tablespoons chopped fresh dill, basil, or parsley
INSTRUCTIONS:
Preheat the oven to 325 degrees. In a large ovenproof skillet, heat the olive oil over medium-high heat.
Add the fennel and saute for 5 minutes, until soft.
Add in the tomato, olives, and artichoke hearts and saute for 3 minutes, until softened.
Whisk the eggs in a large bowl and season with the salt and pepper.
Pour the whisked eggs into the skillet over the vegetables and stir with a heat-proof spoon for 2 minutes.
Sprinkle the omelet with the cheese and bake for 5 minutes or until the eggs are cooked through and set.
Top with the dill, basil, or parsley.
Remove the omelet from the skillet onto a cutting board. Carefully cut the omelet into four wedges, like a pizza, and serve.
~ Recipe from The Mediterranean Diet Cookbook For Dummies
BEST OVENPROOF SKILLETS FOR DELICIOUS MEDITERRANEAN CUISINE

These ovenproof skillets allow you to bake or cook on the stove top. No need to worry about melted or burnt handles. Make delicious Mediterranean Diet recipes quickly and easily in one of these ovenproof skillets.
Cuisinart 722-36H Chef's Classic Stainless 14-Inch Open Skillet with Helper

Lodge Color EC11S43 Enameled Cast Iron Skillet, Island Spice Red,

T-fal E93897 Professional Total Nonstick Thermo-Spot Heat Indicator Fry Pan

Once you start enjoying a Mediterranean diet, you won't want to go back to your "normal" way of eating. You'll feel great and have energy to do all the things you've been wanting to do. Keep up with the kids, and your tasks at work and home. And possibly even live longer, too, so you can be around for those who love you!
You might also enjoy these articles:
Related posts: