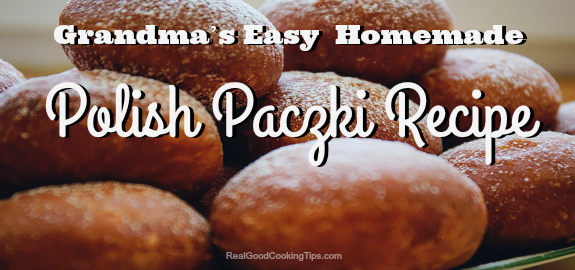 Grandma's Easy Homemade Polish Paczki Recipe
In the United States, Fat Tuesday, is the day set aside for indulging before Lent begins. This is when you begin your eating frezy starting with Grandma's Easy Homemade Polish Paczki recipe!
In some parts of parts of Eastern Europe, Fat Thursday (which is the last Thursday before Lent) signals the ending of the Carnival season. In Poland, it is known as Tlusty Czwartek.
Try this easy recipe for Polish Paczki! It's pretty easy and so delicious!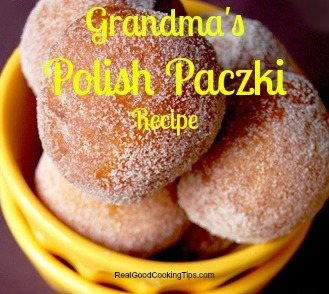 Grandma's Homemade Polish Paczki Recipe
Prep Time: 45 minutes
Cook Time: 6 minutes
2 rises: 3 hours
Total Time: 3 hours, 51 minutes
Yield: 2 dozen Polish Paczki
Ingredients:
1 1/2 cups warm milk (no warmer than 110 degrees)
2 packages active dry yeast ( proof yeast before you start)
1/2 cup sugar
4 ounces (1 stick) room-temperature butter
1 large room-temperature egg
3 large room-temperature egg yolks
1 tablespoon brandy or rum
1 teaspoon salt
4 1/2 to 5 cups all-purpose flour
1 gallon oil for deep frying
Granulated sugar (optional)
Confectioner's sugar (optional)
Fruit paste for filling (optional)
Preparation:
Add the yeast to warm milk, stir until it is dissolved and then set aside. In a large bowl (or your favorite stand mixer fitted with paddle attachment), cream together the sugar and butter until the mixture is fluffy. Beat in the eggs, brandy and salt until incorporated well.
Add 4 1/2 cups flour alternately with the milk-yeast mixture. Beat for 5 (or maybe more) minutes by machine (or longer by hand) until it's smooth. My grandmother beat the dough with a wooden spoon until it blistered. The dough will be very slack. If the dough is too soft, add remaining 1/2 cup flour.
Place prepared dough into a greased bowl. Cover it and let it rise until doubled in size.(Approx.1 to 2 1/2 hours)
Quick Tip: Punch down dough and let rise again to cut the rising time.
Turn the dough out onto a lightly floured surface. Pat (or you can roll) into 1/2-inch thickness. Cut out rounds with 3-inch biscuit cutter. Remove the scraps, then re-roll and re-cut. Cover. Let rounds rise until doubled in size. (30 minutes or more)
Heat oil to 350 degrees in large skillet or Dutch oven. Place the Paczki top-side down (it's the dry side) in the oil, just a few at a time. Fry 2 to 3 minutes or until bottom is golden brown. Turn them over. Fry another 1 to 2 minutes or until golden brown. Don't let the oil get too hot. It will brown the exterior before the interior is done. Test a cool paczki to make sure it's cooked all the way through. Adjust cooking time and oil heat if needed.
Drain paczki on either paper towels or brown paper bags. Roll in granulated sugar while they are still warm.
Note: Poke a hole in the side of the paczki then, use a pastry bag, and squeeze in a dollop of a filling of your choice. Then dust the now-filled paczki with a little granulated sugar, confectioners' sugar or a nice glaze.
* Paczki spoil easily, so eat them up the day you make them or freeze until another time.
Note: Always use caution when cooking with hot oil, especially around children.
Have a fire extinguisher designed for grease fires handy.
You might also like these articles:
Grandma's Easy Homemade Polish Paczki Recipe
Related posts: