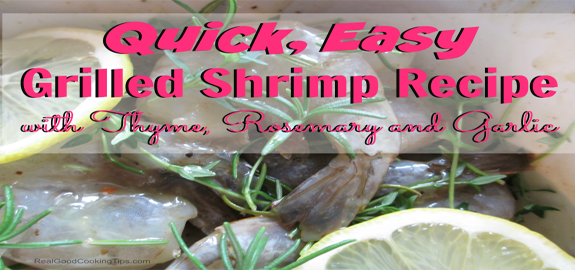 Quick, Easy Grilled Shrimp Recipe with Thyme, Rosemary and Garlic

It's Summertime, and the livin' is easy.
And what's easier than throwing a couple of shrimp on the barbie?
Did you know that Shrimp is the most popular seafood and is the most popular shellfish in the world? We love seafood (and especially shrimp), and we love this quick, easy grilled shrimp recipe with thyme, rosemary and garlic. We think you'll love it, too!
This grilled shrimp recipe is so super simple and you can put it together easily. The fragrant herbs combined with the tangy lemon juice just takes it over the top!
You can serve the grilled shrimp with grilled corn on the cob, grilled vegetables, or a mixed rice pilaf!
This quick and  easy grilled shrimp recipe with herbs is a nice addition to your Summer BBQ recipes!! You could also make it indoors on your Griddler or stovetop!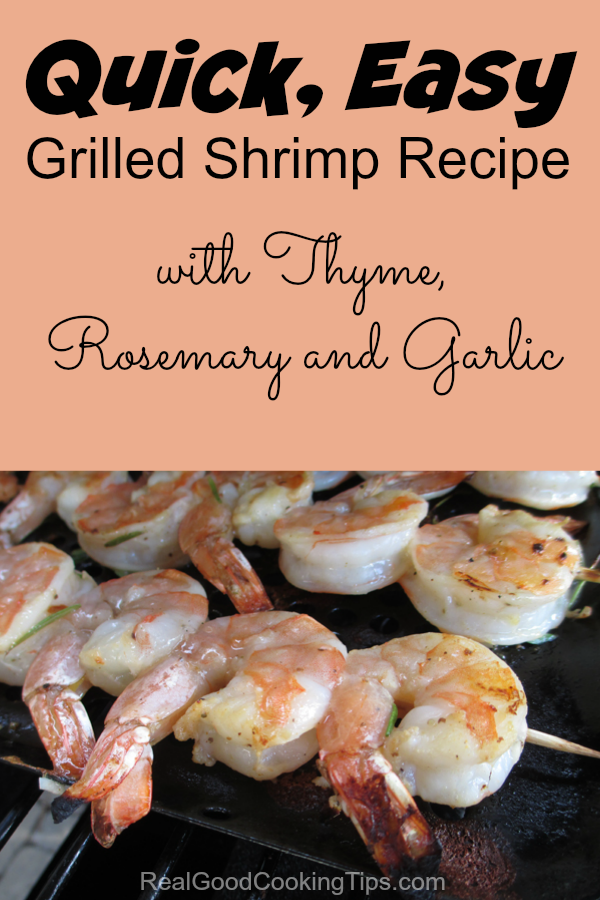 COOKING GRILLED SHRIMP WITH SKEWERS
The best way to cook grilled shrimp properly is with skewers. (Even if you are grilling very large shrimp.) Skewers make it much easier to control the little critters, and easier to cook them on the grill of your choice.
SKEWERING SHRIMP FOR THE BARBIE (BBQ)
There are several ways you can approach skewering the shrimp for the barbie.
SHRIMP SKEWER METHOD #1
● Skewering lengthwise reduces the natural curling of the shrimp as they cook. This is a good technique if you want your shrimp to be nice and straight.
SHRIMP SKEWER METHOD #2
● Skewering shrimp twice, once through the top and then through the bottom by the tail. This will give your shrimp a nice curve and makes an attractive kebab.
SHRIMP SKEWER METHOD #3
● Using 2 skewers will create a kebab that is easier for holding the shrimp, and easier to cook.
By the way, none of these shrimp skewering strategies has anything to do with the cooking itself.
** Just make sure that you do not pack the shrimp too tightly on the skewer! It will allow for more even cooking if there is a little space in between.
HOW TO GRILL SHRIMP
It is best to grill shrimp quickly, but NOT over a high heat on your grill. Especially with the smaller shrimp! You do not want to overcook your shrimp!
When grilling small shrimp at a high temperature, it makes the cooking uneven and it's hard to get them all off of the grill at the correct time!
GRILL SHRIMP ON MEDIUM HEAT
Keep your grill on Medium heat. (You should be able to hold your palm over the grill for 4-5 seconds) Grill shrimp for 1 1/2 – 2 minutes per side, using tongs to turn them.
HOW DO I KNOW WHEN MY SHRIMP ARE COOKED?
You will know that the shrimp are fully cooked when you see that the outside surface has changed its color. Shrimp come in a variety of slightly different colors. Most begin as greyish, or bluish, then turn to a pink color as it is cooking. Once the shrimp has completely changed to pink from its original color, it's done!
***
Real Good Cooking Tip:
You must remove the shrimp from the grill as soon as it it done! That very second!
When shrimp is overcooked, it develops a rubbery texture, and the natural flavor is greatly diminished.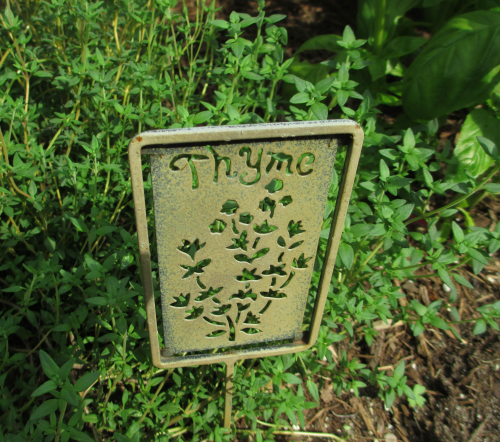 QUICK, EASY GRILLED SHRIMP RECIPE WITH THYME, ROSEMARY AND GARLIC
INGREDIENTS:
1 1/2 pounds large, unpeeled shrimp
1/2 cup fresh lemon juice (use 3 lemons)
1/2 cup extra-virgin olive oil, plus more for the grill
2 tablespoons minced garlic
1 tablespoon chopped fresh rosemary
1 tablespoon chopped fresh thyme
Coarse salt and ground pepper
Pinch of red pepper flakes
Parsley for garnish
INSTRUCTIONS:
Using either a pair of kitchen shears or a paring knife, cut through the shell of the shrimp along the back of each one. De-vein each shrimp, leaving the shell on.
In a small mixing bowl, mix the lemon juice, oil, garlic, rosemary, thyme, 1 teaspoon salt, and 1/2 teaspoon pepper, pinch of red pepper.
Reserve 6 tablespoons of the lemon mixture for serving.
Place the shrimp and the remaining lemon mixture into a resealable plastic bag. Then, seal the bag and shake it gently to coat the shrimp. Put in the refrigerator for 1 hour.
Clean and oil your grill. Heat the grill (or grill pan) to Medium.
Remove raw shrimp from the Rosemary and Thyme marinade, wiping off any excess.
Grill shrimp until they are completely opaque, 1 1/2 to 2 minutes per side.
Serve your grilled herbed shrimp drizzled with the reserved lemon mixture.
Sprinkle with fresh parsley.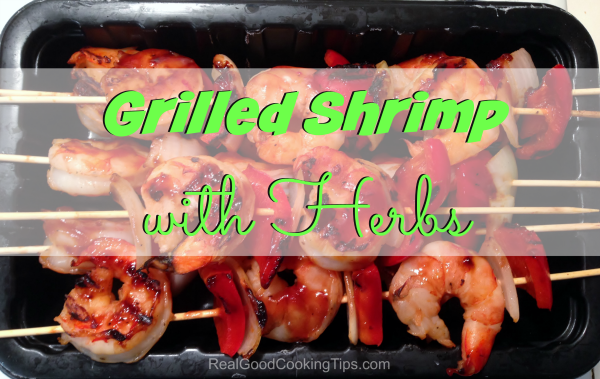 We hope that you enjoyed this recipe for quick and easy grilled shrimp recipe with thyme, rosemary and garlic! Let us know in the comments if you try the recipe!
You might also enjoy these related articles:
Quick, Easy Grilled Shrimp Recipe with Thyme, Rosemary and Garlic
Related posts: