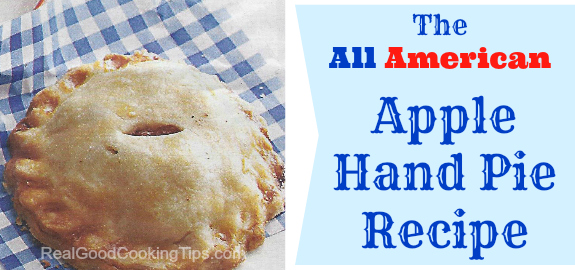 The All American Apple Hand Pie Recipe | How To Make Apple Hand Pies

For the family Fourth of July Holiday outing, I decided to put my spin on one of the All-American Favorites, Apple Pie, by instead, baking up some delicious, easy apple hand pies, using the All American Apple Hand Pie Recipe below. You, too can learn how to make apple hand pies. It's as easy as…
I know.
Pie.
Yes, of course, it's great to eat a big ole piece of pie in the summer, but sometimes, you only want a little bite…or two, or three!
So, that's why I opted to make individual apple hand pies for our barbeque,
and not
one
E-Nor-Mous apple pie.
Apple Hand Pies Are The Ideal Dessert
And, since there will be many children at the party, the hand pies seemed just the exact size for small hands!
Being amazingly portable, hand pies are the ideal dessert for taking on a summer picnic along with the potato salad, or enjoying at home in the backyard, lazing by the pool.
Hand pies are also a fabulous reason to be buying and eating lots of fresh fruit from the market. You can bake so many flavorful combinations with the fruits.
How To Make Apple Hand Pies With The Hand Pie Method

Most hand pie recipes are just regular, run-of-the-mill pie recipes.
The hand pie method is to slice the dough into small, round circles, then divide the pie filling into even portions, filling the rounds with the apple pie mixture.
If you don't bake, or have the time to make your own pastry crust, then by all means, use 2 refrigerated 9-inch pie crusts for making the hand pies, just like the simple recipe below.
 The All American Apple Hand Pie Recipe
And now I present, an easy recipe for apple hand pies,
The All American Apple Hand Pie Recipe.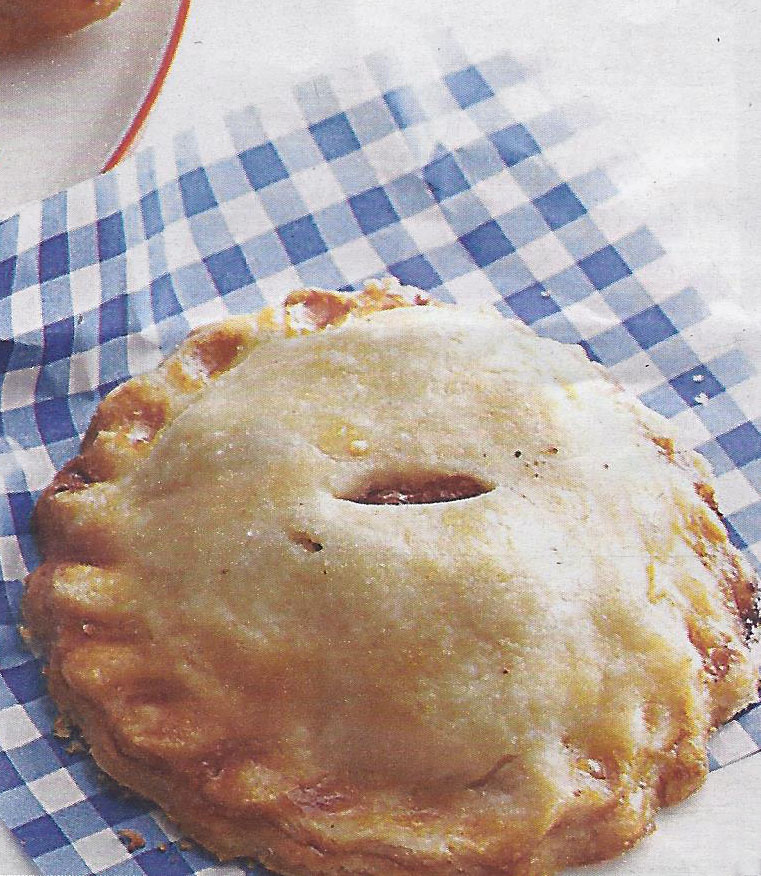 The All American Apple Hand Pie Recipe
(an Easy Apple Hand Pie Recipe)
 First, Preheat the oven to 350° degrees F.
Line 2 baking sheets with crisp parchment paper. Then, combine 1/4 cup sugar, 1 Tbsp cornstarch, 1/2 tsp ground nutmeg, 1/4 tsp of allspice, 1 tsp cinnamon and 1/8 tsp salt in a bowl.
An Option: a touch of orange zest.
Next, add two peeled, diced apples, a splash of fresh lemon juice, 1/2 tsp of vanilla extract, then toss.
Unroll 2 refrigerated 9-inch pie crusts onto a generously floured surface. Cut out 3-inch rounds with cookie cutters. Re-roll scraps and then, cut out more rounds.
(Should make approx. 20 rounds)
Lightly brush each round with the beaten egg.
Place a large spoonful of apple pie filling into the center of half of the rounds.
Cut a small vent into the center of remaining rounds.
Cover the filling rounds with the vented rounds, sealing up the edges with a fork,
or create a more rustic look with your fingers.
Brush the tops with some more egg, then sprinkle with regular or coarse sugar.
Bake the hand pies on baking sheets until golden, about 20 minutes.
~ based on a recipe in the Parade magazine
***
Real Good Cooking Tip:
Kick it up a notch:

Add a tablespoon of Brandy or Bourbon to the apple hand pies filling!
These apple hand pies are not just for the 4th of July!  Enhance any holiday party with these fabulous, homemade apple hand pies.
Next time, I'll thrill you with a recipe for some delicious meat hand pies. Yum.
For more amazing recipes about
apples
Click below for The Apple Lover's Cookbook by Amy Traverso!
To your best success, in the kitchen and everywhere!
You might like these articles also:
Homemade Dark Chocolate Mint Ice Cream in 20 Minutes
 Do You Know How To Make A Classic Baked Potato?
Video – Best Outdoor Gas Grill|CharBroil K6B 6-Burner BTU
 The All American Apple Hand Pie Recipe | How To Make Apple Hand Pies
Related posts: