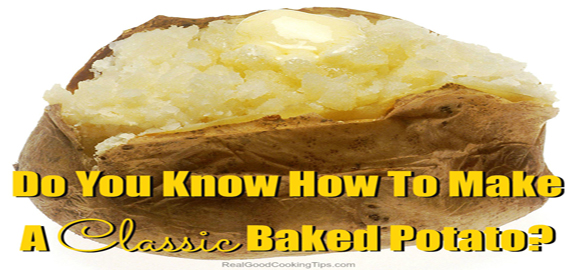 Do You Know How To Make A Classic Baked Potato? | 10 Favorite Toppings for Baked Potatoes

Have you ever wondered how to make a classic baked potato?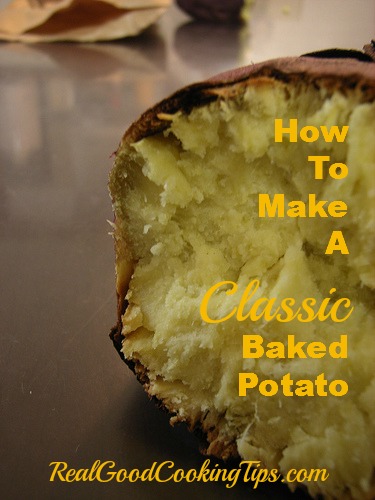 How To Make A Classic Baked Potato Instructions
It's easy. Just follow these directions:
Classic Baked Potato Recipe
1. Preheat the oven to 375 degrees F.

2. Scrub 4 medium baking potatoes. (Russet is recommended)

3. Rub with a little healthy oil of your choice (Try Safflower Oil or Coconut Oil)
and place directly on an oven rack. (no pan necessary)

4. Bake approximately 1 hour or until soft.

5. Split open lengthwise and squeeze to push flesh out slightly.

6. Sprinkle with salt and pepper.
Voila!
That's it.
Now, the fun begins….
Have it Your Way
You actually CAN please everybody – if you give them enough choices for their baked potatoes. (Or give them Classic Potato Salad!)
10 Nifty Toppings for Baked Potatoes
Try one, or all of these 10 nifty toppings on your next Classic Baked Potato:
In no particular order….
1. Cheeseburger
Ground Beef cooked with garlic, shredded cheese, diced tomato
2. Smoked Salmon
Cream Cheese, chives, smoked salmon
3. Blue Cheese, Garlic and Herbs
Sour Cream, crumbled blue cheese, chopped garlic, fresh Rosemary
4. BLT
Butter, diced cooked bacon, chopped tomato, shredded lettuce
5. Greek   
Plain yogurt, chopped black olives, cucumber, tomato
6. Chili Cheese
Warmed chili, Mexican-blend shredded cheese, cilantro, chopped scallions
7. Spicy Chickpea
Drained canned chickpeas, sauteed with cumin, tumeric, garlic, Greek yogurt, chopped parsley
8. Sausage & Peppers
Italian sausage sauteed with bell peppers and onions, grated Parmesan cheese
9. Mexican
Ground Beef or Turkey mixed with Taco seasonings, shredded cheddar cheese, salsa, chopped cilantro
10. Pepperoni Pizza
Pizza Sauce, grated mozzarella cheese, pepperoni slice, grated Parmesan cheese
How about this addition…?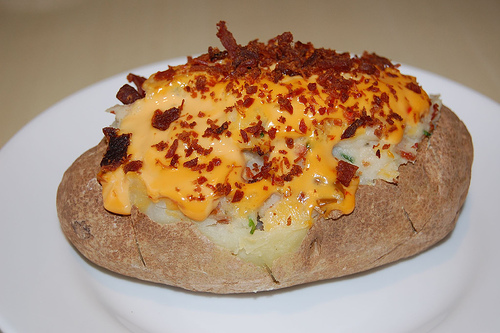 11. ** Cheese, Salsa, Bacon

***
Real Good Cooking Tip:
 You can also "bake" potatoes in the microwave, if you please.
How To Bake Potatoes in The Microwave Oven
Simply pierce 4 potatoes with a fork.
Place in a shallow baking dish.
Cook for 10-12 minutes, turning every 3 minutes.
Use a fork/skewer to check for doneness.
If needed, cook 1-2 more minutes.
We recommend…
Nordic Ware 365 Indoor/Outdoor Potato Baker
Nordic Ware 365 Indoor/Outdoor Potato Baker
~ Cooks four potatoes at once
~ Cast aluminum conducts heat to the inside of the potato
~ Nonstick coating makes for easy cooking and clean up
~ Measures 2-1/8 by 8-7/8 by 10-1/4 inches
~ Made in the U.S.A.
Bon Appetite!
So, what's your favorite of the 10 nifty toppings for your next baked potato?
Please share your preferences below in the comments section!
If you enjoyed "Do You Know How To Make a Classic Baked Potato" please like, comment, share, and tweet .
Fan us on Facebook!
Follow us on Pinterest!
Perhaps you'd enjoy these articles:
 Homemade Dark Chocolate Mint Ice Cream in 20 Minutes with the Cuisinart Ice-21 Electric Ice Cream Maker
The All American Apple Hand Pie Recipe
The Natural Diet – the Best Foods For Weight Loss
Do You Know How To Make A Classic Baked Potato? | 10 Favorite Toppings for Baked Potatoes
Related posts: