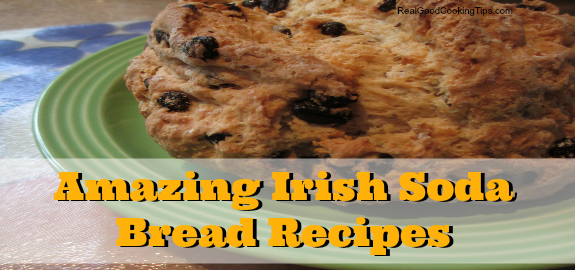 7 Amazing Traditional Irish Soda Bread Recipes
I will dedicate this blog post about 7 Amazing Traditional Irish Soda Bread Recipes in honor of my ancient Irish roots and St. Patrick's Day.
Frankly, I didn't really know that much about my Irish heritage until a couple of years ago when my sister started to trace our family tree.
Then, we took a trip to Canada to visit St. John's, New Brunswick, where our father grew up.
Who knew that our claim-to-fame would be that my great, great, great grandfather was the first person of Irish descent to be recorded in the Canadian Maritime records!
And he built a town. And a road is named after him! And we saw an antique schoolhouse that's preserved for historical value bearing our family name.
Wow! Talk about tradition…
So today we'll talk about traditional Irish Soda Bread, so named for the ingredient of baking soda, (sodium bicarbonate) and we'll share with you some amazing traditional and authentic Irish Soda Bread recipes.
The traditional Irish Soda Bread recipe goes back a long way…but not way back to ancient recipes of Irish history like you make think.
In the mid-19th century bicarbonate of soda first became available for use as a leavening agent (instead of yeast) and soda breads began to appear in Europe.
The traditional ingredients of soda bread are flour, bread soda, salt, and buttermilk. Other variations include ingredients such as butter, egg, raisins, or nuts and caraway seeds.
Scones, griddle cakes and breads made with bicarbonate of soda and cream of tartar (tartaric acid ) became popular in Britain and Ireland as well as in Austrian, Polish and Serbian cuisine.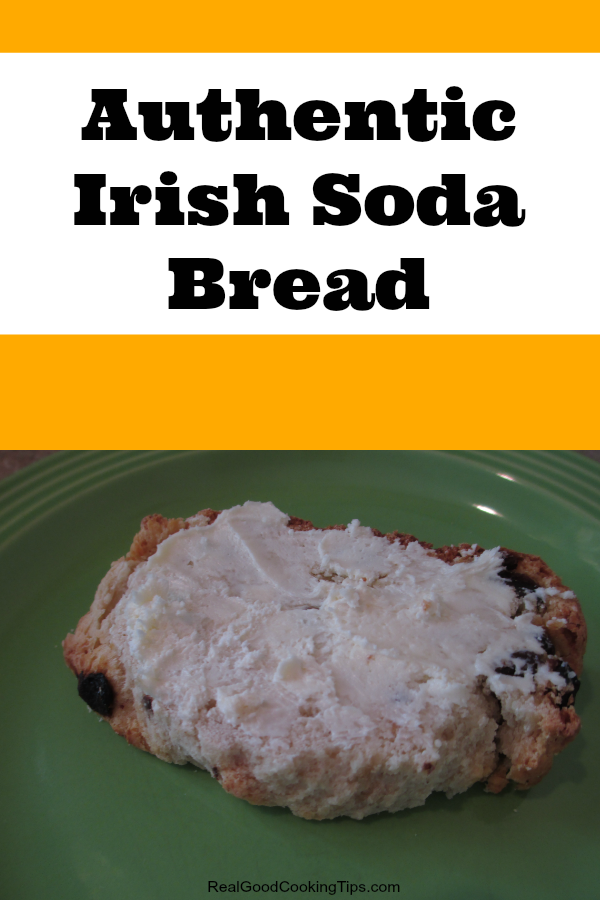 Authentic Traditional Irish Soda Bread
Typically, the flour is made from soft wheat in Ireland. Cake or pastry flour is the best to use when making traditional Irish soda Bread. It has lower levels of gluten than regular bread flour. Some recipes call for yogurt or stout instead of the usual buttermilk.
It is recommended by bakers everywhere to limit the amount of mixing time of the ingredients before baking! Don't overwork it.
You should NOT knead the dough.
Here are some of our very favorite Irish Soda Bread Recipes:
1. My Favorite Irish Soda Bread Recipe
This recipe is my favorite (commercial) Irish Soda Bread recipe from the STOP & SHOP Food Stores. It always tastes just perfect to me.
Ingredients:
2 cups all-purpose flour
2 tsp baking powder
1 tsp baking soda
1/2 tsp salt
1 Tbsp sugar
2 Tbsp cold unsalted butter
2 Tbsp cold vegetable shortening
1 large egg, beaten
1 cup buttermilk
1 cup currants
Directions:
Combine flour, baking powder, baking soda and salt in a large mixing bowl. Mix it well.
Cut in shortening and butter until the mixture is the size of peas.
Add buttermilk, egg and currants. Mix until all ingredients are incorporated well. Do not over mix!
On a floured surface, form a smooth ball with the dough.
Score the top of the bread with a large knife to let the fairies out! Then, brush with a little buttermilk.
Bake for 40-45 minutes at 375 degrees F or until golden brown.
Let it cool on a wire rack. Do not cut the bread right away, as it might become gummy in the center. Let it rest for 10 minutes, then cut into slices, or tear into chunks.
Buy A Cast Iron Frying Pan For Cooking Irish Soda Bread
&
Lodge Pre-Seasoned Cast-Iron Combo Cooker, 3-Quart
&
2. How To Make Irish Soda Bread
This is How to Make Irish Soda Bread in easy steps from the good people at The Kitchn.
3. Amazingly Easy Irish Soda Bread
4. Authentic Irish Soda Bread Recipe
5. Traditional Irish Soda Bread Recipe
Irish Rosie says this traditional Irish soda bread recipe was passed on to her by a dear friend of her mother's (from Ireland).
Non-traditional Irish Soda Bread Recipes
6. Whole Wheat Vegan Irish Soda Bread
7. Jim's Cheddar Onion Soda Bread Recipe
Traditional Irish Soda Bread Easy Recipe
We hope you'll also like these articles:
7 Amazing Traditional Irish Soda Bread Recipes
Related posts: