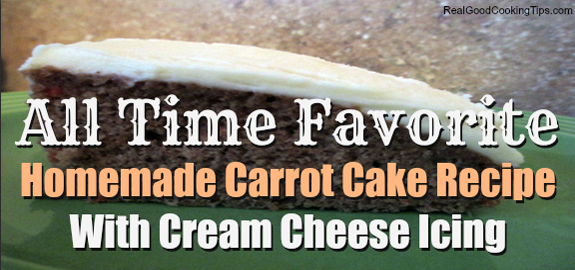 All Time Favorite Homemade Carrot Cake Recipe With Cream Cheese Icing
Just the other day…
For no reason at all..
(actually, it was snowing, I was planning on being inside all day, and I love the smell of something delicious  baking, like my all time favorite carrot cake (with cream cheese icing) in the oven…)
I decided to make a carrot cake recipe for a 9×13 pan, then changed my mind and made two – 9 inch square pans. (I wanted to give one cake to my cousin and her family.)
And…I made lots of extra cream cheese icing, and used it to frost some oatmeal raisin cookies previously baked.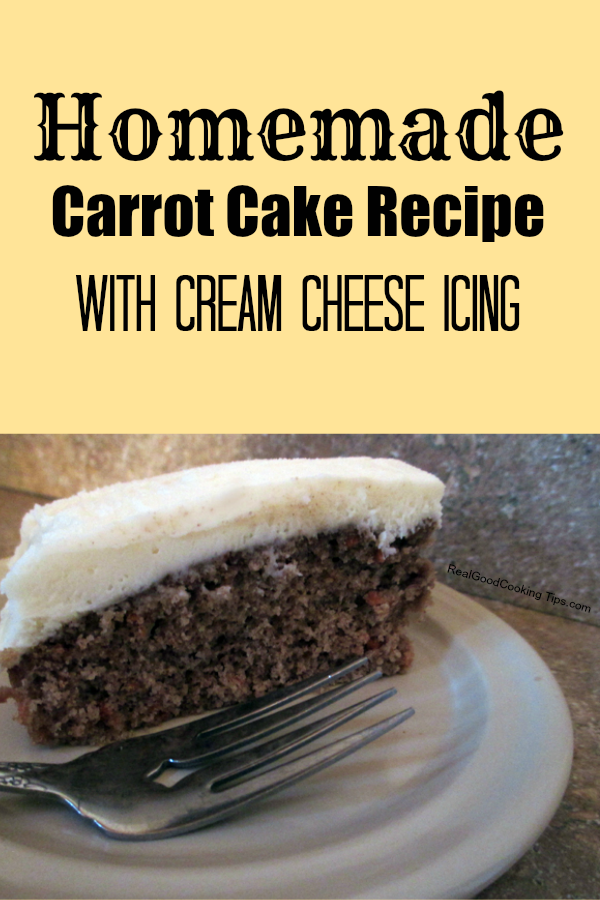 Homemade Carrot Cake Recipe
I've had this homemade carrot cake recipe for many years. I don't remember exactly when or where I first found this carrot cake recipe. Such a long time ago…The original carrot cake recipe called for 1 cup of vegetable oil!!
So…instead of following  the original carrot cake recipe to the letter, I substitute one cup of applesauce for the oil in the recipe, thus creating  a carrot cake recipe without oil. It comes out nice and moist!
Carrot Cake Without Oil
2 cups all-purpose flour, sifted
2 tsps baking powder
1 tsps baking soda
½ tsp salt
2 tsp ground ginger
1 tsp cinnamon
2 cups sugar
1 cup applesauce
½ unsalted butter, room temperature
4 eggs, large
1 tsp vanilla
2 cups carrots, grated fine
1 can crushed pineapple, 8 ½ oz, do not drain
1 cup coconut, grated
1 cup walnuts, chopped
Sift the dry ingredients in a large mixing bowl. Add the sugar, oil, eggs and vanilla.
Beat the mixture with an electric hand mixer on medium speed for 1 minute. Stir in the carrots, pineapple, coconut and walnuts by hand, with a big wooden spoon, just until blended.
Pour into greased and floured prepared cake pan(s). (1 – 9 x 13 pan, or 2 – 9" pans.)
Bake in pre-heated oven at 350° F oven for 35 – 40 minutes.
Cool cake in pans on rack for 10 minutes. Remove from pans and cool on rack.
Frost the cake!
Recipe For Cream Cheese Icing
This is my favorite recipe for cream cheese icing. Not sure where this came from, either.
I like to add a little orange zip to the standard carrot cake icing recipe. If you don't care for the orange accent, just omit the orange juice and orange zest.
Cream Cheese Icing For Carrot Cake
1 1/2 cups unsalted butter, room temperature
12 oz. cream cheese, room temperature
4 cups confectioners' sugar, sifted
1 1/2 tsp pure vanilla extract
1 1/2 tsp. fresh orange juice
1 1/2 tsp. grated orange zest
Using a stand-up mixer fitted with the paddle attachment, place butter and cream cheese into the metal bowl. Set on medium speed, beat the cream cheese and butter for about 2 minutes or until it is fluffy.
Add the confectioner's sugar (a little bit at a time), orange juice, vanilla and orange zest. Mix together slowly. Gradually increase mixer to medium speed and beat for 1 minute or until the icing is smooth.
Real Good Cooking Tip:

Do a crumb coat FIRST, then frost the cake. Just spread the carrot cake icing on the layers and don't worry about the crumbs. Let the crumb coat of icing dry to the touch – then frost over it!
It will look beautiful!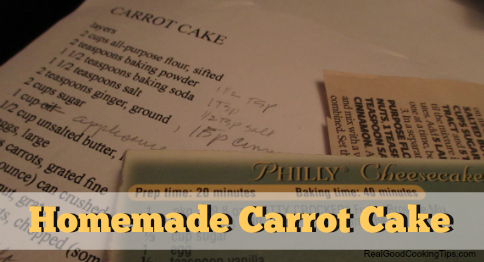 Where Can I Buy a Classic Stand Mixer To Make Carrot Cake?
You can buy a Classic Stand Mixer in almost every color for your cake baking needs in fine department stores and online! Find one that totally matches your kitchen style and personality below.

Hamilton Beach 6-Speed Stand Mixer
KitchenAid Artisan Stand Mixer with Pouring Shield
Sunbeam 250-Watt 5-Speed Hand and Stand Mixer Combo
&
Buy Mixing Bowls For Your Kitchen
And a few colorful Mixing Bowls will also be helpful when baking a homemade carrot cake! Choose the right size for your cake baking recipe.
VonShef Premium 5 Piece Stainless Steel Multi Colored Mixing Bowl Set
&
Where To Buy A Carrot Cake Recipe Cookbook?
This is the ultimate guide to Carrot Cake recipes! Just Click below to find 75 new recipes for carrot cake!
75 wonderful Recipes for Carrot Cake – The Ultimate Carrot Cake Cookbook
&
What's your favorite topping for our homemade carrot cake?
You might also like these articles:
All Time Favorite Homemade Carrot Cake Recipe With Cream Cheese Icing
Related posts: