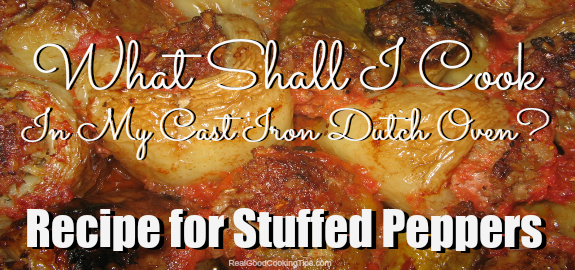 Cast Iron Dutch Oven Cooking
I love to cook for my big family – and one of my favorite ways of cooking in the kitchen (or even the great outdoors, although I don't do too much of that these days!) is Cast Iron Dutch Oven Cooking.
Using a cast iron enameled dutch oven allows for uniform heating and faster cooking time (and tastes better than something cooked in a convection oven which is supposed to be "faster" cooking time).
What shall I cook in my Cast Iron Dutch Oven?
Just about anything can be made in a cast iron Dutch Oven – on top of the stove, in the oven or on top of your campfire or campstove – but here are a few a suggestions and a recipe for one of our very favorite recipes – Easy Homemade Stuffed Peppers.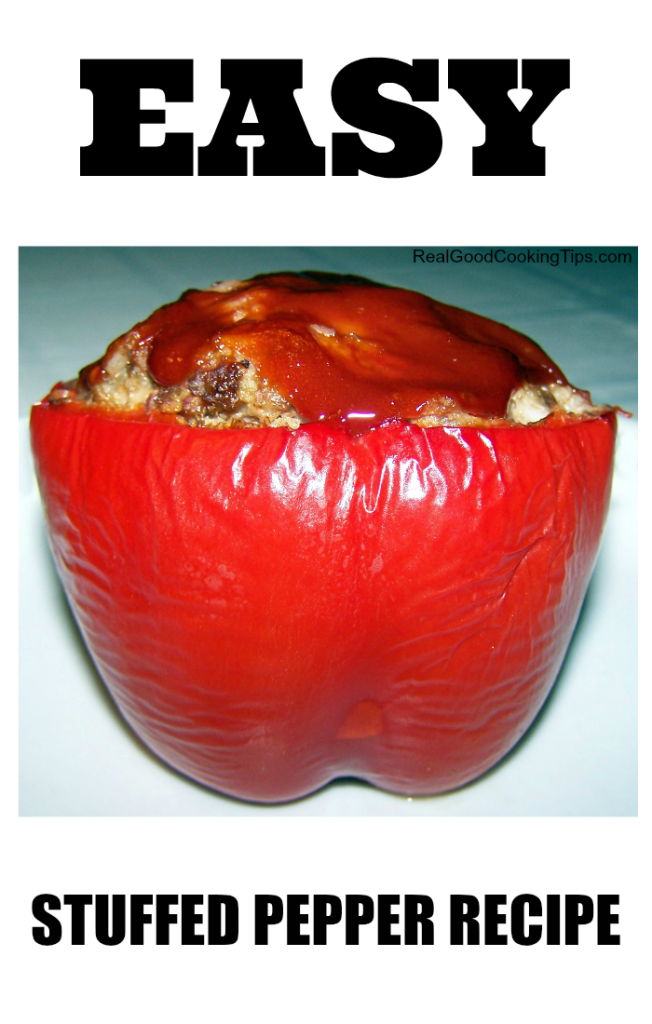 Additional Menu Suggestions for Cast Iron Dutch Oven Cooking
A few menu suggestions for cooking in your cast iron Dutch Oven:  
·  Stuffed Cabbage
 ·  Pot Roast     
·  Mac and Cheese

·  Pork Roast                                                           
·  Soups

·  Ham
What you'll need for cooking this stuffed peppers recipe:
2 cup liquid measure
Paper towels
Disposable vinyl gloves
Gorgeous Enameled Cast Iron Dutch Oven
Lodge Enameled Cast Iron Dutch Oven, Island Spice Red, 6-Quart
Easy Recipe for Stuffed Peppers
This easy recipe makes the best homemade stuffed peppers!
Prep. Time: about 20 minutes
Cook Time: about 60 minutes (or until peppers are fork tender)
Ingredients:
1 tsp. Olive oil
4 medium green peppers (or any color you prefer – yellow/red/orange)
1 pound extra lean hamburger (93/7)
1 small onion – chopped
1 clove garlic crushed (or 1 tsp of jar minced garlic)
1 cup of white rice cooked (you could use brown or wild rice if you prefer)
Lawry's salt ( or store brand season salt) to taste – at least 1 tsp
¾ cup of water
Instructions:
Using the teaspoon of oil and paper towel, coat inside – bottom and sides – of your Dutch Oven.
Whisk together condensed soup with ¾ cup of water and set aside.
Cut each pepper in half with your Chef's knife (around the middle so you have 2 halves standing), scoop out the seed and excess green inside and trim any stem – rinse and let drip dry.
In large mixing bowl combine raw hamburger, crushed garlic, chopped onion, rice and seasoning and mix well after donning gloves (to keep your hands clean).
Fill each pepper half with meat mixture and distribute amongst the 8 halves.
Pour a small amount of soup into bottom of Dutch Oven.
Place pepper halves in a circle around the edge of pot and then in the middle – it may be a little tight but they will shrink as they cook.
Pour remaining soup over the tops of the stuffed peppers.
Cover pot and put on stove on High bringing the soup to a boil, then lower to simmer and cook for about an hour.
Makes 8 servings
Stuffed Peppers Pair Well With:

Pair stuffed peppers with mashed potatoes and steamed fresh green beans. Use the juices from the cooked peppers as a gravy!
Beautiful Enameled Cast iron Dutch Oven, Whisk Set and Mixing Bowls
Tramontina Enameled Cast Iron Dutch Oven
Wired Silicone Whisk Set
Multi Colored Mixing Bowl Set
Bon Appetit!
#2 Sister Chef …
You may also like these food related articles:
Dutch Oven Product Review | Best Cast Iron Dutch Oven
The Top 10 Best Must Have Cookbooks
I Love My Fabulous Cuisinart Ice-21 Electric Ice Cream Maker!
The All American Apple Hand Pie Recipe
Cast Iron Dutch Oven Cooking | What shall I cook in my Dutch Oven? | Recipe for Stuffed Peppers
Related posts: